Modifying topic classes and instances
From WandoraWiki
Each topic may be related to zero or more class topics. Class-instance relation is used to express a type or a kind of a topic. Next image views traditional topic panel with a Schema type topic. Red circles mark topic's classes and instances.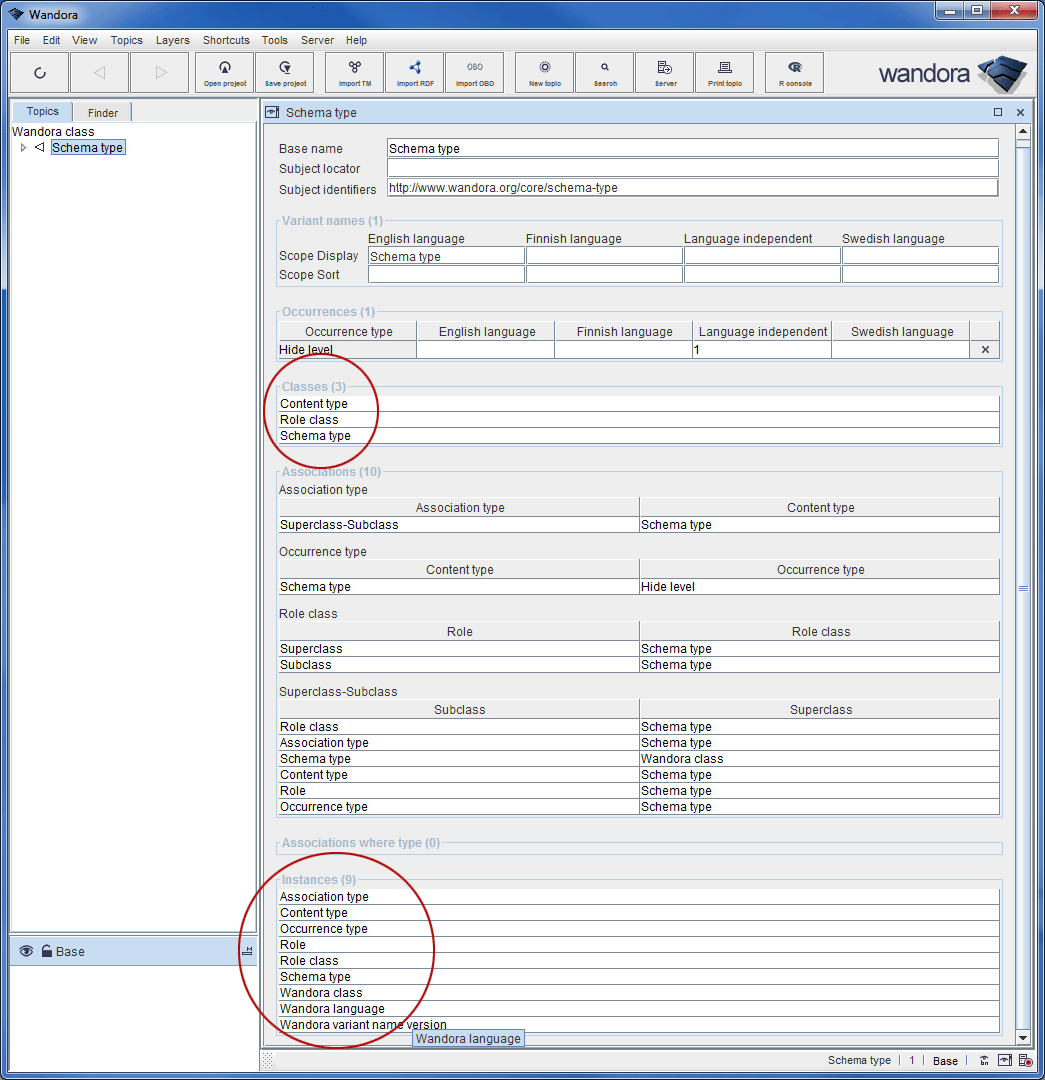 Class is added to a topic by right clicking the title header Classes and selecting Add class. After selection, Wandora opens a pick-a-topic dialog used to address the topic class. Topic's class is deleted by selecting a row in the Classes table, right clicking the row, and selecting menu option Delete classes.... Multiple classes can be removed at once. Notice that deleting a class topic removes only class-instance relation. The topic itself is not removed.
Also Topics > Add to topic > Add class menu selection adds topic a class and Topics > Delete from topic > Delete classes deletes the class.
Modifying topic instances
Instance is added to a topic by right clicking the title header of Instances table and selecting Add instance.... Instance is deleted by selecting row in the instance table, right-clicking selected row and selecting Delete instances....
Also menu selections Topics > Add to topic > Add instance and Topics >Delete from topic > Delete instances can be used to add and delete instances.
Additional notes
Wandora models class-instance relations using internal data structures. Wandora doesn't contain a topic that represents the relation type or role types. This means that Wandora user can not use the relation class-instance nor role types class and instance in part of other relations. Wandora user can't set up a superclass of a class-instance, for example.
Wandora speaks of classes and instances while the Topic map standard speaks of types and instances. Reader should understand that a type described in Topic map standard is equivalent to a concept of a class in Wandora.
See also